House Design Considerations
We started working with our new architects, George and Stacy. They are doing an amazing job - Janelle and I are really excited about the great ideas they have!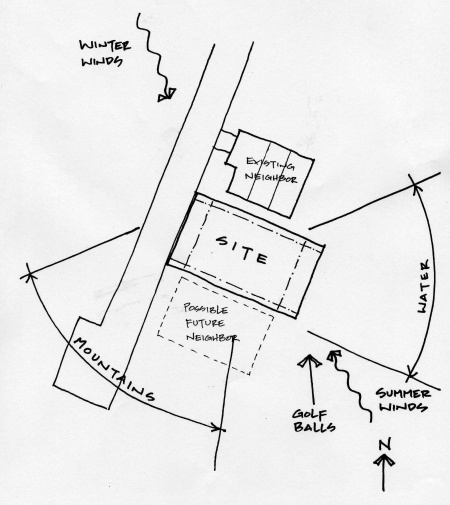 One of the things George showed us right from the beginning is the sketch above. It shows the major ideas he took into consideration as he started working on the house design: view of the mountains, view of the Sea of Cortez, golf ball hazards, neighboring structures, etc...
From this sketch there are overall guidelines that can be fed into the house design. For example, he clearly convinced us that it makes sense to place the viewing tower in the northwest corner of the house, where we'll be able to get a good view of the La Giganta mountains and also of the Sea of Cortez.
Click on the image above to see the sketch in PDF format (note that a PDF reader is required in order to view this document; if you do not have any, click here to download Foxit 2.0, a free PDF reader. You could also download the well known Adobe Acrobat reader, but it's a lot bulkier and slower).
Posted by emmanuel at
4:06 PM
|
Comments (0)