First draft of house - in 3D!
A few months ago we worked with our architect, David Kesler (www.davidkesler.com), to define what house we will build. Eventually we hope to have sections and elevations which we'll deliver to our contractor in Loreto. David delivered a first draft of the floor plans; unfortunately we temporarily stopped working with David since we need to take care of a couple of things before we continue.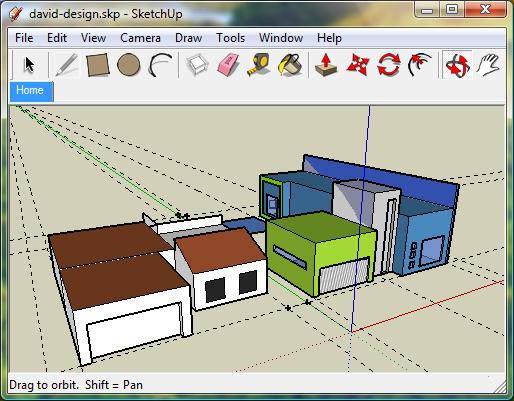 First draft of our house in Loreto in three dimensions
Google has released a new version of its "Google Sketchup" software. This software allows you to easily create 3D models - here's the full description from their site:
Google SketchUp 6 is a 3D modeling software tool that's easy to learn, simple to use, and lets you place your models in Google Earth. Are you remodeling a kitchen, landscaping your back yard or adding a deck to your home? Google SketchUp makes it faster, easier and a lot more fun. From simple to complex, from conceptual to realistic, Google SketchUp helps you see your vision before you build it.
Janelle took David's first draft and created a Google Sketchup drawing of it. For reference, you can see the neighbor's house (in brown) to the left of our house (in blue). If you'd like to see the first draft of the house in 3D, you need to:
Download and install "Google Sketchup" from http://sketchup.google.com/

Click on this link

and our house should open up in Google Sketchup.
Our next step will be to place this 3D model within Google Earth - this will give us an exact idea of what the house will look like in its exact location (our lot). If you have trouble figuring out how to move around the house in 3D, check out these Google Sketchup tutorials: http://sketchup.google.com/tutorials.html
Posted by emmanuel at January 17, 2007 3:23 PM