Making the house handicap accessible
Janelle has been working hard on a new design for the house. One of the ideas she had was to make sure that the house will be accessible to handicapped folks.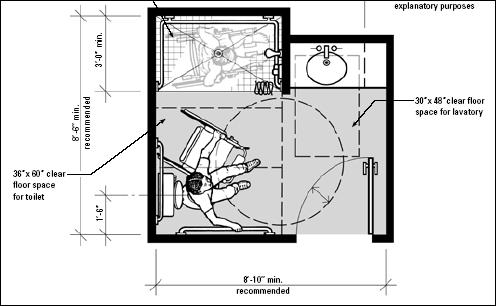 Making sure folks with wheelchairs can use our bathrooms
Here are a couple of things to keep in mind when designing a bathroom:
Clear Floor Space at Toilet. When the toilet is located in the corner of a 60-inch x 60-inch clear floor space additional open space to the side of the toilet is available. This facilitates a wide variety of independent transfers, and especially the side transfer, critical for many users of mobility devices. The space also provides room for an assistant when needed.

Shower Stall Size. A 36-inch deep or deeper stall better contains water and minimizes uneven warped surfaces so all four wheels of a personís shower wheelchair stay in contact with the floor. Thus, the user is better able to maintain traction and control when maneuvering into and out of the shower.
Since I'm a greedy bastard, I can't help to think that if our house accomodates these specs it will be a lot more valuable to some baby boomers and their parents.
Here are two documents Janelle found that we are using as reference:
Easy Living with Universal Design
Bathroom Tech Sheet
A PDF reader is required in order to view these documents. If you do not have any, click here to download Foxit 2.0, a free PDF reader. You could also download the well known Adobe Acrobat reader, but it's a lot bulkier and slower.
Posted by emmanuel at January 24, 2007 12:12 PM