Loreto Bay now renting vacation homes
Loreto Bay has started its rental program - here are some details: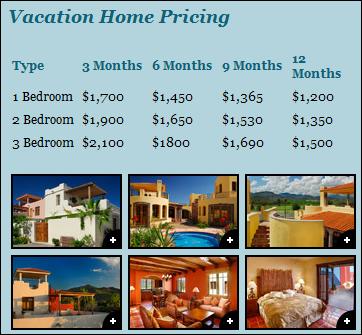 I took a screenshot of the current rental rates
Let's see how these rates change in the next few years
Mexico Vacation Home Rentals, Link

Beginning in February of 2007, North America's largest sustainable resort development will offer beachfront vacation home rentals for 3, 6, 9, and 12 month lengths. The home owners participating in Loreto Bay Vacation Home Rentals have furnished their homes in selected fixtures, appliances and furnishings that blend the ambience of traditional Mexican architecture, modern luxuries and the wonderful indoor/outdoor living opportunity that are only possible in Baja.

Home Types

There are three floor plans to choose from – one, two or three bedroom – all fully furnished with a living room, dining area and full kitchen ranging in size from 1,000 to 2,000 square feet.

In-home features:

- In-house safe
- Two telephones
- Two TV's with satellite
- DVD player with movies provided
- Wireless internet access
- CD alarm clock
- Roof top balcony with a patio table with chairs
For more information on Loreto Bay rentals, point your browser to:
http://www.loretobay.com/vacation-homes/
When we start building our house there's a strong chance we'll rent from Loreto Bay. Although prices are a bit high, the houses and condos are beautiful and we won't have to worry about Internet, phone and Satellite TV connectivity.

Posted by emmanuel at February 3, 2007 5:58 PM