In-Wall Speakers
Hopefully soon we'll be working with our architect to create floor plans, sections and elevations that our contractor in Mexico will be able to use.
In addtion to sections and elevations, I would like to have additional plans that show the locations of power outlets, lights and other details. One of these details could be the location of "in-wall speakers".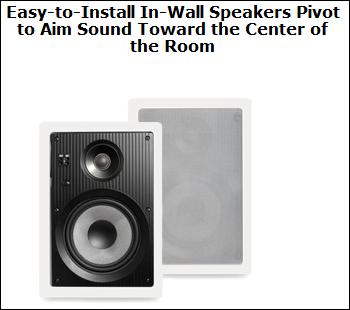 We are thinking that in the main living room, where the big screen plasma TV will be placed, we will have the speakers built-in the concrete wall. There are a few advantages:
- No need for wires all over the place. Makes it easier to clean the room and makes sures kids, pets or clumsy adults don't trip over them.
- The above in-wall speakers can be turned to aim the sound wherever we want. With the 5.1 surround sound experience, this is important.
- The speakers can be replaced in a few years when they stop working or better technology is available.
I don't know if this "in wall speakers" idea will become a reality, but maybe logging it here will make it so. :-)
For more information on in-wall speakers and for other cool stuff for your home, check out http://www.smarthome.com; click here for an example of in-wall speakers, I copy its specs below.
6.5-Inch Rectangular In-Wall Speakers (Pair)
Smarthome.com, 3/25/2007, $539.99, Link
Essential Information
- Speakers mount in the wall for clean look with full sound
- In-wall speakers include rigid steel frames for ease in mounting
- 6.5-inch speakers provide 100-watt power
You don't need to install bulky, awkward speakers around your room in order to aim sound toward its "sweet spot." The 6.5-Inch Rectangular In-Wall Speakers are designed to be flush-mounted in your wall for full, 100-watt sound in an unobtrusive housing. Unlike standard wall speakers, these in-wall units feature Teteron soft dome pivoting tweeters that can aim the sound toward your ideal listening area. These in-wall speakers connect to your home theater system using 16-gauge or larger speaker wire, sold separately.
Speaker Details
The 6.5-Inch Rectangular In-Wall Speakers feature an elegant design with a fine mesh grille that houses a new driver with "Vectran" cones, German Atmos-Air wire, gold plated connections and polypropylene capacitors that blend to create a seamless audio experience. Butyl rubber surrounds offer performance and durability, and Kapton voice coils are cooled with Fero fluid, which increases the life of the loudspeaker and increases power handling. The ribbed baffle design creates an extremely strong, inflexible platform for the contained drivers. This design eliminates both "baffle run on" and "baffle flexing," thus preserving the three dimensional soundstage so that the sound is not smeared or distorted.
Easy, Secure Installation
Install the rigid steel frame and mounting assembly by passing the black mounting ring through the cutout. Verify that the speaker frame fits into the cutout, and once the frame is in place, pull the mounting ring against the rear side of the wallboard. The steel clamp eliminates vibration and reduces baffle run on, so you'll be left with a more secure, stable installation. Included in the package is a perforated metal grille to protect the driver; the grille is removable for servicing. All surfaces of the speaker are paintable to match your décor, as well.
Specifications

Angstrom Loudspeakers Product No.: AV-6.5W
UPC: 845466000023
Dimensions: 9 1/16" W x 12 5/8" H (23cm x 32.2cm)
Cutout Size: 9 1/16" W x 12 5/8" H x 3" D
Description: In-wall loudspeaker with 6.5" Vectran Woofer and 1" Teteron Tweeter
Frequency Response: 42Hz-21KHz
Sensitivity: 90dB 1W/1M
Power Handling: 50-100 Watts
Impedance: 8 ohms
Speaker Wire: 16 gauge or larger
Warranty: Lifetime, limited

Posted by emmanuel at March 25, 2007 3:55 PM