Why we love Loreto
Janelle and I stumbled upon Loreto when we drove along Baja five years ago. Along the way, we stopped in many towns, as we enjoyed the Scuba diving and more.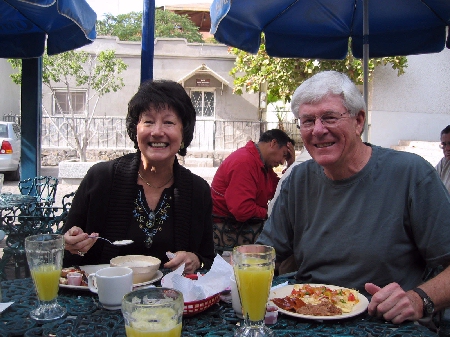 Joe and Sandy enjoy breakfast at "Cafe Ole" in downtown Loreto
We started in San Francisco and stopped in San Diego, Ensenada (we avoided Tijuana), Guerero Negro, Muleje, Loreto and Laz Paz. It took us over a week to arrive in Todos Santos, where Janelle has a house.
We arrived in Loreto, a week after the hotel "Camino Real" first opened. Caminor Real was recently purchased by the Loreto Bay company and renamed "Inn at Loreto Bay" (http://innatloretobay.com/hotel/). We loved the hotel and the town - after many hours behind the wheel in the hot temperatures of Baja, it was like finding an oasis in a desert!
Just Google "Loreto, Mexico" and you'll find many sites describing Loreto. Here's one site: www.Loreto.com and here's what they have in their "Activities" page:
Loreto boasts nearly 250 km of coastline, 750 square km. of sea and 14 islands. The Sierra La Giganta mountain range, one of the tallest and most spectacular in Baja, overlooks the town of Loreto and creates breathtaking panoramic vistas. The surrounding desert is rich with unique plant and animal life and the water teems with aquatic life, creating unlimited eco-touristic opportunities. The weather of Loreto is generally warm with more than 300 sunny days and a year round temperature averaging in the 80's.

Possessing tremendous diversity, Loreto has much to offer for the entire family. In addition to its legendary sportfishing, you can enjoy numerous outdoor activities such as swimming, snorkeling, scuba diving, golf, beachcombing, horseback riding, tennis, kayaking and sailing.

Or soothe your palate with Loreto's delicious traditional cuisine in the quaint, small town ambiance. On a trip to the nearby islands, you can marvel at the marine life that includes sea lions, exotic birds, playful dolphins and whales.

In town and in the mountains at San Javier, you can explore ancient missions and captivate your mind with the local history. Awaiting you at the Nopolo Sports Center is a seaside golf course with 18 challenging holes and a tennis center containing nine lighted courts, a stadium and a swimming pool. And for those wishing to do nothing at all, try tanning while relaxing with a margarita in the tranquil ambiance of the indigo hued Sea of Cortez.
With both Delta and Alaska now having direct flights from Los Angeles that take less than 2 hours, Loreto is a sweet spot in this crazy world.

Posted by emmanuel at January 1, 2007 4:28 PM