Troon Golf to manage the Loreto Bay Golf Club
Janelle's parents live in Bend, a great town in Central Oregon's "high desert" .  Joe and Sandy live right on the beautiful "Broken Top" golf course (http://www.brokentop.com/), located on the west side of Bend.
Joe told me that "Troon Golf", the same company that manages "Broken Top" and many other golf courses was chosen to manage the Loreto Bay golf course.  After a quick Google search I found this page on Troon Golf's web site:
  http://www.troongolf.com/courses/loreto_bay_golf_course.php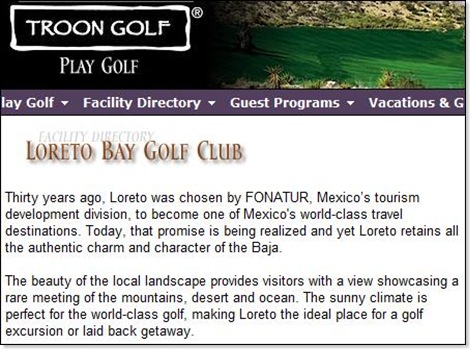 It's great that Loreto Bay has chosen Troon Golf to manage their golf course - Troon is a well known company with a strong reputation.  They'll know how to market the golf course and make more people aware of the wonders of Loreto, Nopolo and Loreto Bay.
Posted by emmanuel at September 27, 2007 10:02 PM