New Free Online Group Related to Loreto and Loreto Bay
A few days ago I contacted Loreto Bay asking if I could access their online forums.  I received a reply that unfortunately their online forums are only available to Loreto Bay owners.  But they were nice enough to point me to a new online group related to Loreto and Loreto Bay which is open for everyone.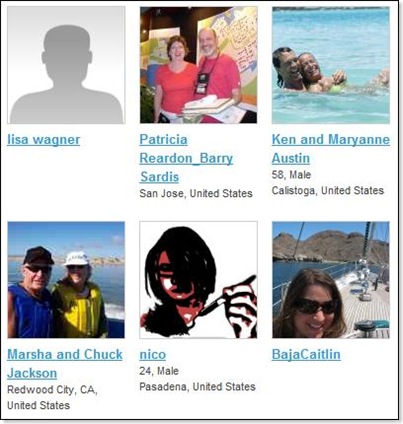 A few members of the Loreto Bay group on Ning.com
You can easily join the "Loreto Bay" group on Ning.com by simply pointing your browser to:
This is the first time I've used an online group from Ning.com and I find it really cool.  It has many features:
Main Page

Shows latest activity from all members, such as new pictures being added, comments, forum updates and more.

My Page

Personal page where you can edit your profile (and add your avatar picture for example)
Personal blog where you can post entries on anything you'd like.
Add pictures and videos

Members

View and search list of members
Currently there are already 33 members in the group.

Forums

Join or start a conversation on any topic related to Loreto and Loreto Bay.
This will be great for example to share tips on good places for snorkeling and diving or to discuss the latest Loreto Bay development.

Groups

You can create sub-groups within the Loreto Bay community.
For example, Patricia Reardon and Barry Sardis created a "San Francisco Bay Area" group.  They also created a similar Yahoo Group but they only allow Loreto Bay owners to join.  I understand that Loreto Bay might create a closed online forum, since you use their resources when accessing it (bandwidth, hard drive space, etc...).  But it doesn't make any sense for Patricia and Barry to create such a closed group - why not share ideas and information with as many people as possible?  I left them a comment asking for a clarification.
Update: Patricia and Barry were kind enough to respond to my question: "Loreto Bay has a private community for owners. We set up the Yahoo Group for local SF Bay owners so we could discuss getting together without bothering other people".  That makes sense, thanks for clarifying it, Patricia and Barry.

Photos and Videos

You can upload photos and videos you want to share with the group.
You can also view all photos and videos uploaded by others, and Ning.com created a nice interface for displaying the pictures.
Thanks to Baja Caitlin for creating the group and allowing anyone to join (even non Loreto Bay owners).  If you haven't yet, point your browser to http://loretobay.ning.com/ and join the group, it's free and cool!
Posted by emmanuel at October 7, 2007 12:20 PM