Arizona Cardinals Cheerleaders calendar (with pictures taken in Loreto) now available
A couple months ago, I remember hearing that the Arizona Cardinals cheerleaders had landed in Loreto.  Nellie from http://whereintheworldisnellie.blogspot.com/ wrote on 6/17/2007:
The celebrity news in Loreto this week was 20 Cardinal football cheerleaders were in town for the weekend. I heard this was a combination promotion for the Loreto Bay Sales Weekend, the kickoff of the Continental flight from Houston, Texas, and they were doing a photo shoot for next year's calendar.

There was a special event at the airport on Thursday, which I missed but apparently every man in town heard about! All day Friday the local men were walking into my office asking me where they could get a glimpse of these beautiful American girls. Unfortunately, I do not have the clout to get them to Nellie's Place Bar … otherwise, I would have!
I just received an email from Google News that announced that the calendar is now ready.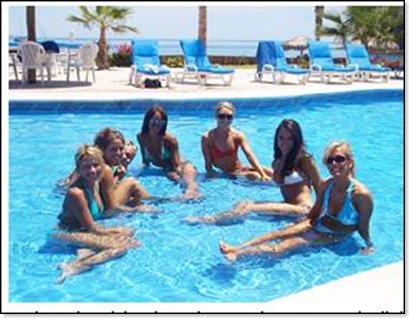 A few of the Arizona Cardinals cheerleaders
hang out at the Camino Real's Inn at Loreto Bay pool
You can purchase a calendar for $15 USD by pointing your browser to the Arizona Cardinals web site:
http://www.azcardinals.com/news/detail.php?PRKey=1960
I hear the owner of the Arizona Cardinals owns some property at Loreto Bay, so it's great he brought the Cardinals cheerleaders to a photo shoot in Baja. 
By the way, a few weeks ago, I was at the season opener where Alex Smith and the San Francisco 49ers beat the Arizona Cardinals on a last second touchdown on Monday night football at Candlestick park!  Sweet.
I copy more information on the calendar below.
Arizona Cardinals Swimsuit Calendar
Loreto Bay, Mexico: Where the Cardinals Come to Swim, By AUDREY, 10/2007
As I slowly awoke to the buzz of my alarm, my mind raced with anticipation of the next days events. Passport and Starbucks in hand, I boarded Continental flight 3113 with 13 of my teammates eager and ready to kick-off our 2007 swimsuit calendar shoot. Destination: Loreto Bay, Mexico.
After a long flight, I was refreshed by the sight of the natural beauty that is Loreto Bay, Mexico. Breathtaking scenes of aqua waters and lush green islands coupled with the muted tones of the slopes of the Sierra de la Giganta Mountains sprinkled atop the Sea of Cortes, were nothing short of amazing. As the locals say, Loreto Bay is "where the mountains come to swim." I knew this was going to be an experience I would never forget!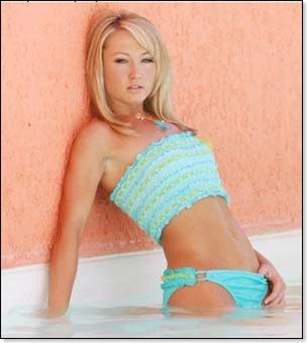 As we taxied toward the seaside airport, thatch-roofed tiki huts and a welcoming committee of firetrucks, locals and the Mayor of Loreto Bay, C. Rodolfo Davis Osuna, greeted us. I quickly discovered that not only was Loreto Bay a true paradise, but the people of Loreto were strongly dedicated to tradition and the preservation of their culture. Through the narration of our flight attendant, we learned that this was the inaugural flight of Continental Airlines to Loreto Bay. As we slowly approached the terminal, we were showered with water from the fire trucks to christen the planes arrival! Within minutes of arriving, I could tell Loreto Bay reflects the great history that defines this legendary part of Mexico.
In fact, very little has changed since it was founded in 1697, as California's first settlement. Jesuit priest and explorer Juan Maria Salvatiera harbored an intense desire for the evangelization of lower California. He founded the Mission de Nuestra Senora de Loreto Concho by placing an image of the Virgin of Our Lady of Loreto on a cross decorated with wildflower garlands. Loreto served as the capital of California for over 130 years and served as the base for further expansion of the Jesuit mission system. The history of Loreto is alive and evident in every part of this seaside community.
After arriving at our ocean-view Inn, we were greeted by our director, Heather Karberg, with the news that I and Kathy Metcalf, also a third year veteran, would be the first shoots of the trip! After a cup of coffee and quick snack, my teammates helped Kathy and I prepare for our shoot.
The aqua hues of the Spanish-style mosaic fountain I waded in for my first location, perfectly complimented my swimsuit. With my lips glossed, hair teased, and the energetic direction from our photographer, Robert Konieczny, I gave "the look" in hopes of catching the perfect shot. With a few more clicks of the camera and the nod of approval from our director, it was on to the second location.
The heat of the setting sun definitely got our attention, and Kathy and I were glad to be playing in water for our second shots. Kathy was knee-deep in a shallow pool while I posed in a rustic terra cotta shower. With my shoot complete, I reflected on the time and dedication put into preparing for this once-in-a-lifetime opportunity.
An all expense paid trip to an exotic resort location with good friends may sound great, but it was a lot of hard work to get there. Through the help of our trainer, Chris Powell, our entire team took part in a nutrition and workout program that motivated and prepared us for the calendar.
Along with physically preparing, you must mentally prepare. Through personal goals and the support of my teammates, I truly obtained a confidence that I hope will shine through in my pictures.
In celebration of a job well done, I helped myself to home-made guacamole and tortillas, which I soon found out, were more addicting than potato chips.
For the rest of our time in Mexico, we soaked up the sun on the beach, swam in the ocean, and assisted our teammates with their shoots. Between hair and makeup, lighting and positioning, and inspirational affirmations, we were becoming quite the production team. I found myself in awe of the amazing experience of shooting a swimsuit calendar and owe a lot of my experience to everyone who helped this dream come true. Our calendar is more than just beautiful women in swimsuits; it's also about who we are individually, our goals, and our dedication to making our team the best it can be.
I am so honored to be a part of such an amazing group of woman and to represent the Arizona Cardinals. The experiences, friendships and life-long memories I have made are invaluable.

Posted by emmanuel at October 9, 2007 11:55 PM