Home Depot… in Cabos San Lucas!
Janelle and I are getting ready to start the construction of our home in Loreto. Last time we flew down to Baja we learned that Home Depot had opened a store in Cabos San Lucas.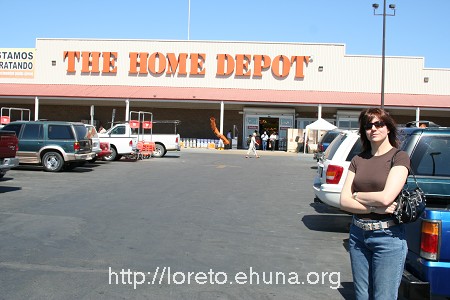 Janelle looks cute in front of the Home Depot
store in Cabos San Lucas, Baja California Sur (BCS), Mexico
Although the capital of BCS is La Paz, Cabos San Lucas is the biggest town in Baja California Sur. Many folks know it as "Los Cabos" since there are two towns near each other: San Jose del Cabo and Cabos San Lucas. La Paz is about 4 hours south of Loreto, and Cabos San Lucas is another couple of hours south of La Paz.
We just went down to Baja and stopped in "Los Cabos" for a couple of days. The next few articles I'll publish will include pictures we took of different items we found at the local Home Depot. This includes:
- Windows
- Kitchens
- Doors
- Bathroom
- Tiles
- Paint
- Miscellaneous, items that didn't fit anywhere else, including some appliances, cabinets, and skylights.
Disclaimer: please note that these items were available on 3/4/2007. Call Home Depot in Cabos before driving down to make sure the item you're interested in is still available and the price has not changed.
See below for more information on the items we found and a few more general pictures of the Home Depot in Cabos.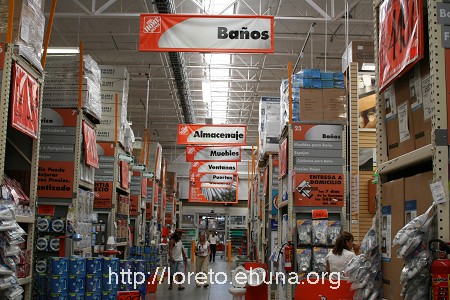 The Home Depot in Cabos, Baja California Sur
The Home Depot in Cabos looks very familiar – the same brand with the orange logo is seen everywhere. Except that everything is in Spanish, measurements are in centimeters and meters and prices are in Mexican Pesos.
We took some notes and for many items and we have the following information available:
- Width x Height (in centimeters or meters)
- Article Number
- Price in Pesos. $1 US dollar is roughly 10 Mexican pesos, but note that the tax is sometimes not included.
In addition for every item we'll be able to access:
- A preview picture of the item, typically at 450x300 pixels image like the once above.
- A low resolution version of the item, typically at 800x533 pixels. Enough to get a general view of the item.
- A high resolution version of the item, typically at 3456x2304 pixels. Great for zooming in and checking out prices or detailed items among a collection of items.

Posted by emmanuel at March 8, 2007 11:58 AM